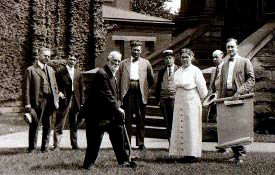 In 1893, industrial philanthropist Christian H. Buhl helped fund a community hospital in Sharon, PA. The Christian H. Buhl hospital was an 18 bed institute serving those that could not afford in-home medical visits or had conditions that required around-the-clock care.
For 121 years, the hospital grew steadily and eventually became the Sharon Regional Health System (SRHS). During this time, millions of patients received care and hundreds of thousands of babies were delivered.
When the non-profit SRHS was sold to Community Health Systems (NYSE: CYH) of Franklin, Tennessee, the Buhl Regional Health Foundation (BRHF) was formed to manage the resulting proceeds.  Law requires that the funds resulting from the sale of assets of tax-exempt entities be directed towards charitable purposes.   These "health conversion foundations" (like BRHF), are focused primarily on community health.
BRHF is committed to efforts that help people in our area achieve and maintain healthier lives. Quite simply, we wish to continue Christian H. Buhl's legacy of improved community health and well being.
BRHF will provide grants and guidance to non-profit organizations who share our vision of improving the health and vigor of our local population.
The Foundation will also dedicate a portion of its resources to enhance the operating efficiency of grantee organizations. These "capacity building" grants support things like; strategic planning, board and staff development, improved financial management, communications, collaboration and evaluation.
The Foundation's philosophy remains cognizant of the original mission; to serve those in need. We will listen to, and collaborate with, organizations that assist the underserved as well as those interested in improving the health and quality-of-life for the communities served by this foundation.