Buhl Regional Health Foundation's Online Grant Application Process begins  next Grant Cycle.  Date: June 10, 2019
Organizations that meet eligibility criteria are able to submit a Letter of Inquiry (LOI) as first step for a funding request.  In addition, the BRHF will require a letter proving tax exempt status which can be uploaded during the application process.   Deadline: July 5, 2019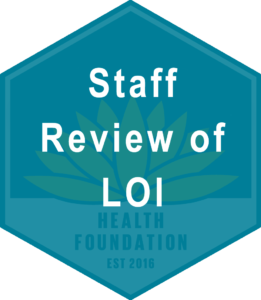 BRHF Staff will review LOI's and determine which organizations will be invited to submit a full proposal.  Deadline for Review: July 18, 2019
If an LOI meets our criteria, the organization is invited to submit a full online proposal with supporting documentation such as; most recently filed IRS Form 990, Strategic Plan, audited Financial Statements, as well as Operating and Project Budgets.  Deadline: August 15, 2019                                                                                                                               Site visits performed as part of application process August 19 – 29, 2019
BRHF staff & Grants Committee will review the full proposal. Deadline: September 12, 2019. Grants Committee will then meet to review final results and prepare Grant Recommendation Summaries.
Grant Summaries will be available for Board of Directors to review.  Reviewed between September 16 – 19, 2019
Grants Committee presents its recommendations to Board of Directors for approval of grant funding..  Approval Requested at BRHF Board Meeting: September 19, 2019
If approved, organizations will receive a detailed Grant Commitment Letter to be signed noting dates for follow-up reporting and any conditions before grant funding is released.  BRHF Grant Award Agreement will be sent September 20.  Deadline for return: September 26, 2019
Once Grant Agreement is returned with signature, BRHF will process the check.  Deadline for Check Processing: September 27, 2019
Staff will review progress reports with the Grantee at the times stated in the Grant Agreement; Summary Reports will then be provided to the BRHF Grants Committee for discussion of impacts, outcomes, lessons learned and grantee's future eligibility to request funding.