On Tuesday, June 28th the Buhl Regional Health Foundation board of directors participated in an educational workshop featuring Dr. Louis Beccaria Ph.D. This seminar gave the board an opportunity to further understand the concept, responsibility, and structure of successful community health foundations.
The host, Louis J. Beccaria has a B.A. degree from La Salle College, an M.Ed. degree in social science/education, and an M.A. and Ph.D. in urban affairs and public policy from the University of Delaware.  Dr. Beccaria has over 42 years of professional practice including twelve years of government experience in criminal justice and human services administration.  He has served as the Chief of Staff to the State of Delaware's Secretary of the Department of Health and Social Services and as a Special Assistant to Delaware's Lt. Governor.
During his five decade career, Dr. Beccaria has published a number of journal and newspaper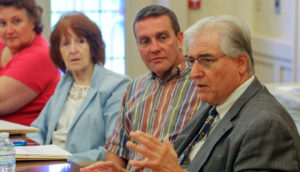 articles on non-profit and foundation management topics. In addition, Dr. Beccaria has been an Adjunct Professor with Eastern University's graduate program in non-profit management as well as Villanova University's master's degree program in public administration.
He is also a member of the Pennsylvania Health Funders and Grant Makers in Health (a national organization of health foundations). The Buhl Regional Health Foundation (BRHF) is a member of both.
Dr. Beccaria presented the approaches used by the very successful Phoenixville Community Health Foundation, where he is currently President/CEO. Due in part to the efforts of this organization, Phoenixville, PA (which is situated along the French Creek and Schuylkill Rivers) has completely transformed its community landscape in recent years.
He addressed the importance of policies, procedures and program development; capacity building (training and education of community leaders); collaborative community programs; structure of the grant making process; individual and community health; and the principles of team philanthropy. Key to his message was community cooperation and the importance of measurable outcomes.
Besides his notable professional experiences, Dr. Beccaria provided the BRHF board and staff with essential procedural documents and guidelines used for the last eighteen years in Phoenixville.