Buhl Regional Health Foundation Presents Awards in Honor of Hospital Week
June 15, 2018- Dr. Gallagher, a physician, Cheryl Pebbles, Grove City Medical Center's trauma coordinator/registered nurse and Donna Anderson, volunteer at Grove City Medical Center, were recently honored with the Buhl Regional Health Foundation's National Hospital Week award.
The recipients each received $3,000 to be donated to their charity of choice: Dr. Gallagher chose the ROAR Center in Sharon, PA a newly formed organization helping with the opioid crisis and addiction, Pebbles selected Grove City Relay for Life in honor of her sister-in-law who lost her life to breast cancer, and Anderson's gift will go to Young Life West-Penn, a Christian youth group to which her grandson belongs.
Hospitals in the Sharon regional area were asked to nominate a physician, employee and volunteer for the award. The Buhl Regional Health Foundation received nominations from each hospital and selected these three individuals based on their time and efforts to improve the lives of the people in our community by the care they provide. A total of $9000 was awarded.
The Buhl Regional Health Foundation is committed to improving the health and well-being of the neighbors we serve. We believe that through partnerships, education, and grant making, we can creatively impact the quality of life in our communities.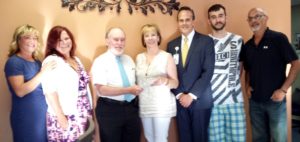 Pictured from left are Lynne Grace, Tracy Weimer, Dr. John Gallagher, Gloria Mackley, Joe Hugar, Jahn Tinglum, Silvio Maroccia
Pictured from left are Mickey Gula, Cheryl Pebbles, Donna Anderson, and Robert Jackson, CEO of GCMC.