On October 19th, 2016 The Buhl Regional Health Foundation (BRHF) hosted over 170 people at the Penn State Shenango Auditorium.
Community organizations, municipalities, churches, and other committed citizens, came together to talk about improving the health of our valley.  There were many important conversations about our changing communities.
Each of the attendees was asked to discuss concepts regarding
advantages, issues, and possible areas of improvement for our area.
In the end, it was clear that community-advancement involves cooperation.
Details:
BRHF Board Chair, Ruthanne Beighley opened the forum by defining Conversion Foundations (Created when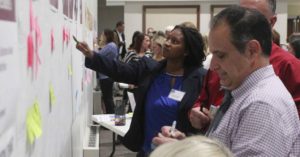 non-profit hospitals are converted to for-profit companies.) and their designated importance; improving the health of their communities. Attorney Beighley also discussed the foundation's commitment to "best practices" (doing the right thing; the right way).
Host, Dr. Jo Anne Carrick, Director, Penn State Shenango discussed Pennsylvania State University's commitment to opening doors, fostering critical thinking, and having real impact on the world. Urban health and well being are the subject of the day.
BRHF Executive Director, Mickey Gula offered the importance of working together for the future. We have a chance to produce a new picture of our community.  BRHF wants to facilitate learning, sharing, and connecting.
Terie Dreussi-Smith, M.A. Ed. discussed the importance of relationships and networks with a sense of belonging. It is important to have representation from the people you are trying to help.
Laurie T. Martin Sc.D. described Health Literacy. It has two sides; a person's skill and knowledge about health as well as the clarity of the communications material.
Mary Phan Gruber, MSW. Executive Director of the Jefferson Regional Foundation focused on collaboration and offered six tips for grant writing. She also suggested that conversion foundations are conveners of issues and ideas.  Organizations like this should be much more than a pool of money.
 The discussion panel was made up of
Debra Anne Roach, PH.D., Director of Workforce Development and Continuing Education – Penn State., Beaver
Michael L. Wright, MBA, Past President/CEO – Shenango Valley Urban League
Mary Ann Daniels, M.Ed., Chief Executive Director – Mercer County Behavioral Health Commission
Dr. George Garrow, M.D., Medical Dirctor and Chief Medical Officer – Primary health Network
Each gave their perspective on the issues at hand.  Their views can be seen on video soon.